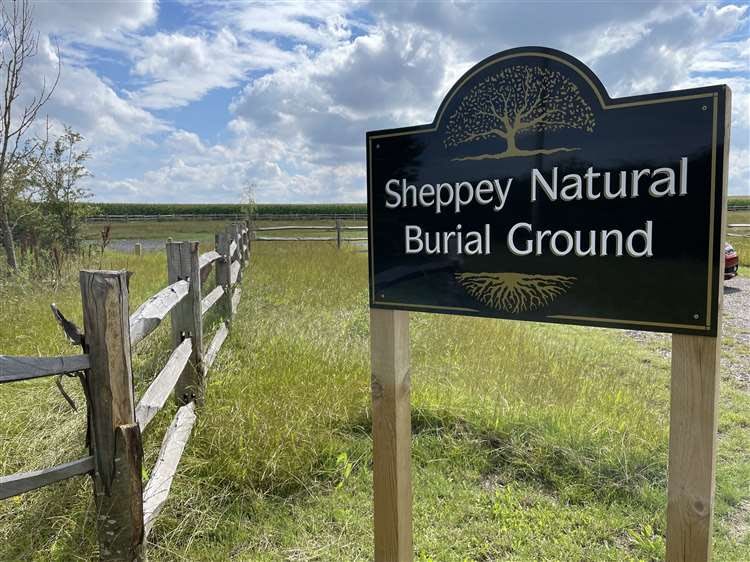 A new eco-friendly Natural Burial Ground has opened on Sheppey meaning residents and others can be buried on the Island once again.
Sheppey Natural Burial Ground is situated in the open countryside, at Harty, on Sheppey, where graves are designed to minimise the impact on the environment.
Surrounded by fields of crops, the site has space for up to 3,000 plots ready to become final resting places.
The green burial site, formerly a farmer's field off Harty Ferry Road, is managed to encourage the natural landscape, and  therefore the placing of monuments, kerbs, fences, decorative stones, woodchips or any other object on plots is not allowed.
Instead of a headstone, graves will have wooden posts with a small plaque that naturally wears away over the years.
For a burial, biodegradable coffins or caskets are used, usually made out of cardboard or wood, which naturally disintegrate over time.
Urns can also be buried or ashes scattered in the meadow, while trees can be planted in the memorial garden, along with a small plaque.
A single adult plot costs £750 and a double £1,400. A plot for a child, aged one to 12, is £400, while a baby, under one, is £150. Additional costs are then added for grave preparations and administration.
A single urn space for the burial of ashes costs £300, a double is £500 or £40 for them to be scattered.
There is a wooded area at the ground for those who wish to scatter ashes and a memorial garden, in which the bereaved can have a remembrance tree planted or a plaque displayed, with benches to sit and think about those they have lost.
Sheppey Natural Burial Ground Limited, the company behind the final resting place, said it caters for people of different religions as well as those without faith, with separate areas allocated.
MP Gordon Henderson, the company's chairman, said he was pleased that Islanders were, once again, able to be buried on Sheppey.
He said: "There's a lot of interest because a lot of people on Sheppey are born, raised and want to be buried on Sheppey.
"You can't be buried on Sheppey because all the burial grounds are full.
"There's still been some burials in Halfway, if people have already bought the plots or are being buried in a family grave, and if they've wanted a natural burial they've been buried at Dearton, or cremated at Bobbing and ashes have been stored or scattered elsewhere.
"That's basically the choice and it's not the Island at the end of the day, and that's what the people that have bought the graves here were keen to do. They have lived on Sheppey most of their lives and they want to stay here and I just think they weren't able to. People came to me years ago and said they couldn't be buried here."
The Sittingbourne and Sheppey representative said he had been trying to get more burial plots on the Island since he was elected in 2010.
Mr Henderson, who used to be a trustee of what was the Halfway Conservative Hall in Minster Road, said money left over from its sale had been put towards the new burial ground.
"We had money from the sale of the hall and were looking for ways we could use it to help the community," he said.
After approaching farmer Stephen Attwood to see whether he had any land available for a burial site, a planning application was put forward to Swale council to convert land in Eastchurch Road. However, the Environment Agency (EA) objected.
"I worked with the EA to find a plot that they would be happy with and we settled with Harty," Mr Henderson said. "It's taken from 2017 to this year to get set up. It's taken a long, long time but it's starting to look inviting now. I think there's also a move towards more eco-friendly burial options."
Tags:
Sheppey
Harty
Gordon Henderson
Natural Burial Ground